Putting in a little effort BEFORE you put your home on the market can help you get more money at closing.  In this CWN video, Managing Editor Angie Moreschi shows us what preps pay off and which ones aren't worth the time and money.
Internet based identity theft can create serious problems if you get hacked and your information is sold on the dark web. Some companies are promoting dark web scans as a way to protect yourself, but do they really work?
Consumer Warning Network Managing Editor Angie Moreschi checks out whether getting a dark web scan is really worth it and looks at other ways to protect yourself.  Click below to see what she found out.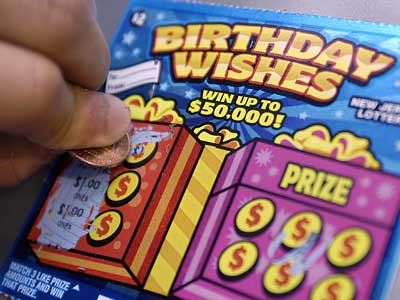 By Angie Moreschi
There's no doubt scratch off lottery games are big business. In 2013, the Florida Lottery sold more than $3 billion dollars in scratch off tickets.  The top prizes often range from $5000 to several million. The urge to win big is often irresistible for folks going to fill up their tank at the gas station or pick up a gallon of milk at the grocery.
"Winning money's always fun!" laughed Melissa Rager, who says she loves the instant thrill of getting a winner.
We all need to take precautions these days to protect ourselves against identity theft, especially when it comes to your credit card. You may have heard that writing "See ID" on the back of your card, instead of signing it, is a way to protect yourself, because it encourages a cashier to check another form of identification. Well, Asa Aarons, with CreditCards.com, says not so fast. Click here to see his report on why writing "See ID" is not such a good idea.
Doing it Yourself vs. Hiring a Professional
Tax time is fast approaching, so if you haven't already buckled down to get it done, time is running out.  The good news is doing your own taxes is easier than ever.  However, depending on your circumstances, that's not always the best idea.  So, when should you do it yourself versus taking it to a professional?  Let's break it down:
It's that time of year again, to let your loved one know just how special they are.  So, with Valentine's Day almost upon us, many of you are thinking of sending flowers, but don't do it until you watch our "Flower Comparison" story.  It shows you how the most popular flower vendors compare.   Click here to watch.
We've all had our share of cookies and chocolate over the holidays. Now it's time to kick into gear your New Year's resolution to get into shape.  Whether you're looking for a treadmill, elliptical or spinning bike, Consumer Reports put exercise machines to the test.  Click here for a report by KDKA TV in Pittsburgh, on the best rated devices to help you slim down for 2014.
The holidays are here and that means lots of food, fun, good cheer and— SCAMS! Consumer groups are warning you to be on the look-out for some popular new ways crooks are ripping people off.  NBC News Investigative Correspondent Jeff Rossen talks about three new scams being  ramped up for the holiday shopping season.  Click here to watch.
Teens who've taken nude or semi-nude "selfies" and posted them or sent them to a friend are finding those pictures can come back to haunt them.  An investigation by the CBS station in Orlando has learned teenage girls are discovering long-forgotten, revealing pictures of themselves on porn sites.
WKMG Investigative Reporter Mike Holfeld tells this tale of caution for all parents and teens. Click here to watch the report.
A drug company whistleblower who exposed serious problems at the company that makes popular drugs used in the United States is telling his story to CBS News.  Kinesh Thakur worked for major, drug manufacturer Ranbaxy which made generic versions of drugs like Lipitor and antibiotics at plants in India.  He revealed disturbing problems with data the company was required to provide to the FDA to show the effectiveness of the drugs it produced.  It's a cautionary tale for all Americans, particularly when you consider that 80-percent of all drugs prescribed in the U.S. are generics.  Click here to watch this report by CBS News Correspondent John Miller.