Our pets are part of the family and we all want the best care for them, but vet care can get very expensive these days. Pet insurance is an option some pet owners consider to help ease the financial burden in case of an emergency or major illness, but does it pay off over time?
The amount of money Americans spend on probiotics has tripled over the last decade.  It's become a billion dollar business— as growing research shows this so-called "good bacteria" can make us healthier. All of us have trillions of bacteria—good and bad — in our stomach, but life can sometimes take a toll on the good stuff.
"When we're under stress or take antibiotics or eat certain foods that we shouldn't be eating all the time, then we destroy that natural good defense mechanism that we have," said Dr. Linda McClintock, Medical Director of Age-less Medicine in Tampa.
Dr. McClintock encourages her patients to take probiotics to add good bacteria to their system. She's seen it help with many conditions—from urinary tract infections, acid reflux, immunity and digestion.  Her patient Rose Rosanelli says it worked for her. "I didn't really have bloating. I didn't have gas.  I didn't have the negative things that tend to go with when you're not digesting properly,"   said Rosanelli.
Probiotics have also been shown to help with certain skin conditions like acne, eczema and rosacea.  Dermatologists are encouraged by early research.  Click here to read more from the American Academy of Dermatology.
With the growing awareness of the benefits of probiotics in the US, we're seeing more foods on the shelves promoting them.  The key is fermented food—everything from pickles to sauerkraut and miso soup and yogurt– all good natural ways to get probiotics.
If you're not eating enough pro-biotic foods, supplements packed with millions of friendly bacteria can offer similar benefits.
You can watch Angie Moreschi's Consumer Wise stories weekly on Bay News 9 in Tampa and News 13 in Orlando.
The consolidation of American companies is having a profound effect on the economy, leaving the middle class squeezed and struggling to maintain itself.  A recent opinion piece in The Washington Post laid out the effects of how corporate America is impacting pretty much everything in society.  Here's an excerpt:
Since the early 1980s, executives and financiers have consolidated control over dozens of industries across the U.S. economy. From cable companies and hospitals to airlines, grocery stores and meatpackers, where once many small and mid-size businesses competed, today we see a few giants dominate. They use their power to raise prices, drive down wages and foreclose opportunity. Wealth is transferred from consumers, workers and entrepreneurs to affluent executives and shareholders.
The ongoing debate in America over economic inequality — as seen, for instance, in the Occupy movement and the success of Thomas Piketty's "Capital in the Twenty-First Century" — is a vital one. But it is incomplete. The challenge is not limited to the decline of organized labor, tax cuts for the well-off and the increased power of Wall Street. The lack of competition in many sectors of the U.S. economy is also a powerful driver of economic disparity.
Click here to read more from The Washington Post.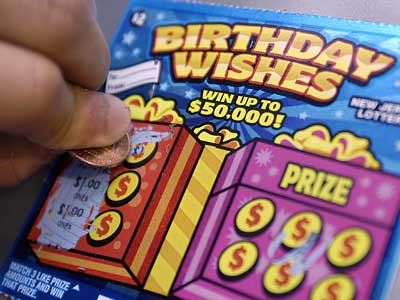 By Angie Moreschi
There's no doubt scratch off lottery games are big business. In 2013, the Florida Lottery sold more than $3 billion dollars in scratch off tickets.  The top prizes often range from $5000 to several million. The urge to win big is often irresistible for folks going to fill up their tank at the gas station or pick up a gallon of milk at the grocery.
"Winning money's always fun!" laughed Melissa Rager, who says she loves the instant thrill of getting a winner.
We all need to take precautions these days to protect ourselves against identity theft, especially when it comes to your credit card. You may have heard that writing "See ID" on the back of your card, instead of signing it, is a way to protect yourself, because it encourages a cashier to check another form of identification. Well, Asa Aarons, with CreditCards.com, says not so fast. Click here to see his report on why writing "See ID" is not such a good idea.
Doing it Yourself vs. Hiring a Professional
Tax time is fast approaching, so if you haven't already buckled down to get it done, time is running out.  The good news is doing your own taxes is easier than ever.  However, depending on your circumstances, that's not always the best idea.  So, when should you do it yourself versus taking it to a professional?  Let's break it down:
Here's another reason to be wary of most things which are pre-paid.  Washington Post reporter Brian Fung conducted a test recently which confirmed allegations that both AT&T and T-Mobile routinely over-charge pre-paid cell phone customers for minutes they don't appear to be using.  It's a tricky little maneuver that the phone companies blame on complicated technology, that we mere mortal consumers could not begin to understand, or so they would like us to believe.
Here's an excerpt of Fung's report:
… prepaid customers on AT&T are routinely being billed extra for minutes they don't appear to be using. If true, that means their available credit is being drained at unexpected rates — often without their knowledge — requiring that they buy more credit, more often. Critics allege the practice amounts to a subtle program of consumer fraud that, in the aggregate, delivers big bucks to wireless carriers.
According to the Switch's hardware tests, as well as a formal complaint lodged with federal regulators, wireless companies are reporting longer call times than what a customer's device will show. In the case of one AT&T subscriber, the network added as many as 33 seconds to his call after he hung up, allowing AT&T to bill him for an additional minute of usage. The Switch's tests also turned up a similar phenomenon with T-Mobile's prepaid phones.
Wireless operators generally charge customers a full minute's worth of airtime for every fraction of a minute used. That's uncontroversial. For example, a call that lasts for 1 minute and 10 seconds will be treated as 2 minutes. But it now appears that even calls that end before a minute is up are also getting treated as two-minute calls. Device testing shows the same holds true no matter how long you talk. One call that I made using an AT&T Go Phone should have been billed at two minutes. Instead, the account was charged for three.
Click here to read the rest of Fung's report.
By Angie Moreschi
Credit monitoring is one of those things that you probably don't think much about until something bad happens.  Well, bad things have been happening.  Ever since a few big security breaches at major retailers like Target, Neiman Marcus and Michaels Craft Store this year, a lot of us are suddenly thinking about it.
Jillian Estes is among the millions of target shoppers whose private information was compromised in the recent, major security breach.  She knows every time she uses her credit card, there's some risk, but actually finding out your information has been stolen, takes it to a whole new level.  "There's an obvious sense of violation, because that's our money.  That's our account.  How far does this go? Really, how deep is this?  And we had to do something," Estes said.
The end of the swipe is coming.  With massive security breaches, like those at Target and Neiman Marcus, threatening the confidence of customers who shop at major retailers, American credit card companies are finally going to make the big change away from our traditional credit cards. We've all been used to the black strip on the back of a credit card that holds all of our personal information, but that makes it easy for hackers to nab the data and steal identities.  So, the push is on to switch to a harder-to-crack, chip technology that will also require a PIN number to use your card.
The Wall Street Journal reports, that beginning later next year, you will stop signing those credit card receipts. Instead, you will insert your card into a slot and enter a PIN number, just like people do in much of the rest of the world. The U.S. is the last major market to still use the old-fashioned signature system, and it's a big reason why almost half the world's credit card fraud happens in America, despite the country being home to about a quarter of all credit card transactions.
The recent large-scale theft of credit card data from retailers including Target and Neiman Marcus brought the issue more mainstream attention, leading to a Senate Judiciary Committee hearing this week. Executives told the senators that once the country transitions to the new system — which includes credit cards embedded with a microchip containing security data — these kind of hacking attacks will be much more difficult to pull off.
Click here to read more from the Wall Street Journal.
It's that time of year again, to let your loved one know just how special they are.  So, with Valentine's Day almost upon us, many of you are thinking of sending flowers, but don't do it until you watch our "Flower Comparison" story.  It shows you how the most popular flower vendors compare.   Click here to watch.