A dip in your local swimming pool to beat the heat may be hazardous to your health. The Center for Disease Control says the major source of stomach bug outbreaks comes from germ infested pools across the nation. Click here to see this ABC News investigation of the hidden dangers of your community watering hole.
By Terry Smiljanich:
In the year since Consumer Warning Network ranked the world's airlines on their safety record, the top airlines have retained their safety record, but the list of worst airlines in the world has changed considerably. On July 28, a Pakistani Air Blue flight from Karachi to Islamabad, crashed on approach and killed all 152 passengers and crew. Let's take another look at the record.
The fatality records of the top eight airlines in the United States (those having more than 2 million flights per year) have not changed in a year. The number of fatal events per million miles traveled remains as follows:
Southwest Airlines        0.00 (no fatalities in its history)
Delta Airlines                 0.17
Northwest Airlines       0.21
Continental Airlines     0.24
US Air                              0.28
United Airlines              0.31
Alaska Airlines              0.33
American Airlines        0.40
Similarly, the top foreign airlines with more than 2 million flights per year remains the same as last year:
British Airlines             0.17
SAS                                 0.19
Lufthansa                      0.22
All Nippon Airlines     0.22
Air France                     0.72
The worst commercial airlines in the world, based on fatalities, have a new cast of characters. The Hall of Shame is as follows:
As last year, the People's Republic of China still does not report airline fatality incidents, so it is not known where its safety record stands.
Thus, as we found last year, the major airlines have enviable safety records, while smaller national airlines of foreign countries generally have much poorer records.
That is not to say, however, that the major airlines are without dangerous incidents. A United Airlines flight on July 20, 2010, from Washington, D.C. to Los Angeles encountered turbulence en route, injuring 26 passengers and 4 crew members. On July 27, 2010, a Lufthansa cargo flight crashed on landing and broke in two, although neither crew member was injured.
All in all, however, it remains true that the most dangerous part of air travel is the drive to the airport.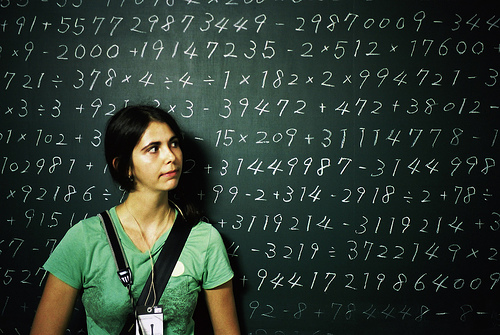 It pays to be good at math.  The college degrees that lead to the highest salaries all involve high-level mathematics.
A survey posted on CBS MoneyWatch of salaries by college degrees shows engineering majors dominate the list. For undergraduates, seven of the top 10 college degrees, according to PayScale, Inc., belong to engineering majors. The best paying college degree of all — by a long shot — is petroleum engineering.
Click here to see the list of top degrees and what they pay starting out and mid-career.
Frustrated airline travelers fed up with excessive fees, delays and restrictions found a touch of satisfaction from a woman in Washington State. She filed a lawsuit against American Airlines for losing her luggage and then refusing to refund her baggage fee.   Click here to watch this report by KOMO TV, the ABC affiliate in Seattle.
Profits are up for corporate America, especially at several leading tech companies.  Unfortunately, that good news is not translating into new jobs.  Wouldn't it be nice if they'd spread the wealth and actually hire a few new employees?  Click here to watch this report by Anthony Mason at CBS News.
By Terry Smiljanich:
Could we really be headed for a future where kids take Lipitor with their Flintstone vitamins? Childhood obesity is an epidemic, but this has the potential of going too far.  A new study in the latest issue of Pediatrics, the leading journal of pediatric medicine, argues that current standards for pediatric cholesterol screening are inadequate, and that universal cholesterol screening of children 8 years and older should be instituted. Children are now being shoved into the spotlight, even though questions still surround the widespread use of cholesterol-lowering statin drugs by adults.
It's certainly tempting to share your every living thought, picture and desire, but think twice before you do.  More good advice from Financial Columnist  Kathy Kristoff at CBS MoneyWatch.com:
You can certainly enjoy networking and sharing photos, but you should know that sharing some information puts you at risk. What should you never say on Facebook, Twitter or any other social networking site?
Your birth date and place. Sure, you can say what day you were born, but if you provide the year and where you were born too, you've just given identity thieves a key to stealing your financial life, said Givens. A study done by Carnegie Mellon showed that a date and place of birth could be used to predict most — and sometimes all — of the numbers in your Social Security number, she said.
Vacation plans. There may be a better way to say "Rob me, please" than posting something along the lines of: "Count-down to Maui! Two days and Ritz Carlton, here we come!" on Twitter. But it's hard to think of one. Post the photos on Facebook when you return, if you like. But don't invite criminals in by telling them specifically when you'll be gone.
Click here to read the rest of Kathy's article.
By Terry Smiljanich:
We all love the great American tradition of outdoor picnics and barbecuing during the summer, with kids swimming and playing, while the smell of  hamburgers and hot dogs grilling on an open fire invite everyone to dinner. No one wants to ruin this idyllic scene with sick guests suffering from the effects of food poisoning due to toxic bacteria growing in the warm air.
Here are ten tips to help insure your picnic food stays safe for everyone:
So prepare carefully, pack well, and head on down to the local lake for some summer fun.    
It's nice to see our stimulus dollars at work, right?  Well, maybe not.  In this report from ABC News, Jonathan Karl reports on what looks more like a SIGN of waste, than true stimulus.  Click here to watch the report.
It's been a long time coming and listening to the political debate is down-right painful, but one good thing that's come from the new financial reform bill is more protection for consumers.
The Senate voted 60-39 Thursday to pass the  financial reform bill, which would put in place broad federal authority to oversee Wall Street and attempt to prevent practices like those that led to the 2008 crash of the financial markets. It now goes to President Obama, who is expected to sign it next week.
The bill is an overwhelming 2,500 pages,which has drawn a great deal of criticism that lawmakers don't really know what they're voting for.   Perhaps, but several of the key provisions in the bill are clear, including more protection for consumers:
Create a consumer protection agency. A new bureau under the Federal Reserve, led by a presidential appointee, will oversee financial products that directly impact consumers — credit cards, bank fees, mortgages, car loans, pawn brokers — and weed out predatory practices. Currently, the work of protecting consumers is spread across various bank regulators. Existing regulators would enforce new rules on community banks.
Click here to read more from Reporter David Sessions of Politics Daily.