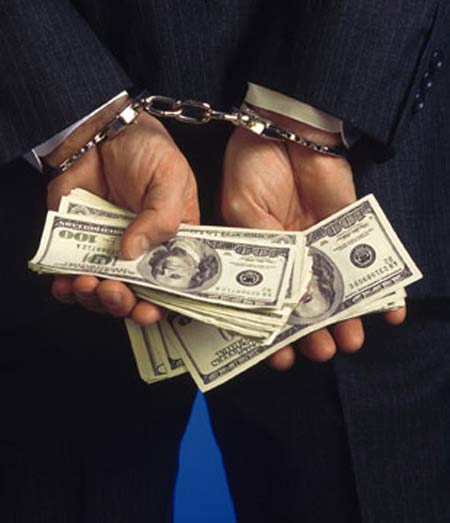 By Terry Smiljanich:
"Grand theft" is the stealing of property worth more than about $200 in most states. It is a felony, and can bring you up to five years in prison. So far, banks have received $350 billion in federal TARP bailout funds. That's $1,167 in tax dollars from every man, woman and child in the country. This whole bailout is starting to feel a lot like grand theft.  Take the money and run!
When these bailout funds were authorized, amid great outcries of impending financial doom, the Administration and Congress in their collective wisdom decided to attach no strings to receiving these billions of dollars. After all, risky and unregulated financial markets got us into this mess, but we can trust them to take our money and spend it wisely to alleviate the crisis, right?
By John Newcomer:
As the economy is grinding to a stop, there is still one business that is hiring — the Department of Labor.
With each new lay off, there are new claims being filed for unemployment benefits. A one-half million job loss in December means 500,000 new claim forms.
To deal with the onslaught, New York State recently doubled the size of its staff of representatives who field calls about unemployment benefits.  The state also extended its hours just to keep up with calls. Even so, twice the number of counselors still could not keep up with the January surge of new filings.
Last Monday, as many as 10,000 people per hour tried to log into the system to file new claims or check on existing claims. This resulted in the whole computer system shutting down. In fact, for the past few weeks the number of first- time claims has been averaging 30,000 per week in New York. That's the equivalent of everyone in Elmira, New York losing their jobs every week.
When will it stop?
By Jim Ross:
What can you do to keep your cell phone ad free?
The options vary by wireless carrier.
AT&T, Alltel, Sprint, T-Mobile and Verizon all offer text-spam filtering options that allow users to block some or all text, picture and instant messages received from the internet.
AT&T and Verizon allow users to block text messages from the internet. That let's friends and family using cell phones continue to text you.  Alltel, Sprint and T-Mobile don't go as far, but provide some filtering.
The specifics vary, but each carrier requires users to change their text messaging options or preferences. These changes don't block mobile to mobile text messaging. Here's a breakdown to get your started:
Sprint allows users to create a block list.  Here's how: Log into your Sprint account,  click on online tools on the top right of the navigation bar and then choose Text Messaging listed under Communications Tools.  Once the text message box pops up, choose setting and preferences to create a block list. More specific directions can be found here.
T-Mobile users can block incoming and outgoing text and picture messages, instant messages and e-mail.  It also allows users to set up a block list. To create a filter, log into your T-Mobile account. From my account, choose services and then select send a message. Next, choose resources on the right hand side of the screen and then select create a filter.  Detailed instructions can be found here.
Verizon. Log into textvzw.com, select preferences and then "text blocking" from the menu on the left.  You then can select the type of messages or specific addresses that you want to block. Detailed instructions can be found here.
Read Part One of this series: Get Ready:  Spam's Going Mobile
On this rare occasion we take the opportunity to offer kudos to a bank executive for suggesting he should NOT get a bonus for 2008. Bank of America CEO Ken Lewis took the uncommon stand of suggesting he and his company's senior executives should forgo their bonus in these dismal economic times.  Mind you, Bank of America has experienced five straight quarters of declining profits, so you might think no bonus is a given.  But, of course, the entire financial world has been turned on its ear, so there's no such thing as logic. So for that reason, we applaud Ken Lewis for doing his part to put an ounce of sanity back into the process. By the way, Lewis did receive $24.8 million in total compensation last year, so don't feel too badly for him.
It's also important to point out that Bank of America accepted $15 billion from the government's TARP rescue plan.  House Financial Services Committee Chairman Barney Frank (D-Mass.) has expressed his belief that "no bonus" should be a requirement of accepting government bail-out money.  Now that makes sense.
If you're among the many worried about how Social Security will survive, with the onslaught of some 80 million baby boomers about to enter retirement, take a moment to step back in time with us.
Ida May Fuller was the first person to receive a Social Security payment. She was born on September 6, 1874 on a farm outside of Ludlow, Vermont. She was known as Aunt Ida to her friends and family. Ida May never married and had no children. She worked as a school teacher and as a legal secretary in Vermont.
Ida May Fuller retired in 1939 at the age of 65. By then she had worked under Social Security a little under three years paying a total of $24.75 into the system.
On November 4, 1939 she filed for benefits, and on January 31, 1940 Social Security check number 00-000-001 was issued to Ida May Fuller in the amount of $22.54.
She received monthly benefit checks until her death in 1975 at age 100. By then she had received $22,888.92 from Social Security.  It pays to grow old and live a long, healthy life… at least it used to.

by Angie Moreschi
There was a brief lull in the skyrocketing number of foreclosures at the end of 2008, thanks in part to temporary foreclosure moratoriums by some states and mortgage lenders.  But don't be fooled, it was a hollow gesture to avoid having the bad publicity of families being thrown out of their homes over the holidays.  Predictions for 2009 foreclosures look grim.   In the video above, WFLA channel 8 in Tampa reported on the likelihood that foreclosures will jump again now that the brief freeze in foreclosures is ending.
By Jim Ross: After years of shoveling junk mail peddling everything from sex toys to get-rich-quick schemes out of my inbox, spam has migrated onto my cell phone. Burying my inbox is bad enough.  But at least the junk can be trashed without opening and can be kept in check by a blocking filter. Cell phone spam's another story. You can't install a spam filter. You often can't delete the junk without opening. And, you end up paying for it all. Spam – what the wireless carriers describe as "unsolicited" messaging sent indiscriminately to your cell phone – is exploding as those spreading political and social agendas and products and services vie for attention.
Mobile Spam a New Frontier
Cell phones are a new frontier for advertisers, spammers, identity thieves and computer viruses aided by unsophisticated internet browsers and filtering systems and consumers who focus on features, not security. Whether by text or picture, abuse is growing as new technology shrinks costs and enables delivery to handsets carried in pockets and purses. Already:
Between 18 percent and 25 percent of all American cell phone users have received spam;
200 known viruses have targeted one popular cell phone operating system;
Identity thieves are using cell phone text messages to trick the unwary into providing personal or financial information or downloading viruses that steal it.
Bluetooth wireless technology and pictures and video are being used to spread viruses.
The attraction's simple enough: hundreds of millions of Americans carry cell phones everywhere and pay attention when they ring or flash a text message.  We trust our cell phones.
Advertising Boon
For commercial advertisers, that trust translates into a cheap way to tap a lucrative market. Particularly when the primary users are teenagers and young adults – what the advertising industry calls the target demographic that spends less time reading and watching television.
And use of cell phones as mobile computing devices is growing. By 2007, 80 percent of the world's population had access to mobile phone coverage with about 3.3 billion mobile phone subscribers – the equivalent of half the planet's population – including 226 million Americans. Americans alone sent 5,000 text messages per second, 43 million a day every day, in 2007.  And, about 40 million users received text-message ads.
By 2010, spending on mobile ads and mobile banking is expected to reach $10 billion, in part, because cell phones are viewed as trusted and secure devices. The ad barrage is already weazling in to the dike of privacy.
Kraft sends e-mail dinner suggestions to mobile users. Kroger, a grocery store chain, is testing a mobile coupon for shoppers to use.  Guinness boosted beer sales by 24 percent in the last month of a mobile advertising campaign. In-store traffic increased 21 percent when Dunkin' Donuts sent a coupon to cell phones of high school and college students.
More importantly, perhaps, 17 percent forwarded the coupon to friends. In Great Britain, mobile media is attracting a "highly desirable audience" that is cash rich, and time poor with a third of users reporting they are tempted to buy advertised products, according to the M:Metrics, a firm that tracks mobile marketing. Now, advertisers are looking at ways to use the mobile web to access the audience, according to a 2008 company survey.
So who are the biggest consumers of the mobile web? Americans. And, the ads are already flowing, brought to you by your cell phone carrier.
Last week, Verizon Wireless announced that it will allow banner advertisements on news, weather, sports and Internet sites early this year. Sprint began allowing banner ads in October. Welcome to the the future of advertising — whether you like it or not.
**Check back on Thursday for Part 2 in this series on internet spam:   How Can You Block Junk Cell Phone Messages?
If you're feeling a bit poorer these days, you're in good company.  The numbers are staggering whether it's your home value, your stock portfolio or your 401K.  Just about everyone took a hit, and now that 2008 is finally over we can tally the numbers.  The loss of wealth in America is truly massive.  It's not just that the Dow Jones industrial average fell 33.8%, its worst year since 1931, and its fourth worst performance since its inception in 1896.  The percentage declines mean nothing, until you look at the actual figures.
By Angie Moreschi:
Wanting a college education is supposed to be a good thing, but for many students it's turned into a nightmare, as more and more kids are strapped with insurmountable debt upon graduation. Student lenders, like Sallie Mae, have found trusting and eager targets in our youth. Many of these companies have used questionable lending practices, where information and disclosures are glossed over with promises of higher paying jobs "someday."  The very school that a student believes they can trust with their education is often complicit in luring them into loans they cannot afford.  The LA Times recent article "Student loans turn into crushing burden for unwary borrowers" by Kathy Kristof is a revealing report on what is happening to college students today when they borrow money for school.