Featured
Good drivers pay more for auto insurance if they rent, rather than own, their home, according to new research by the nonprofit Consumer Federation of America.
"I don't think it's fair," renter Autumn Yoakum said.  "There's no difference between me and a homeowner besides a mortgage."
Said renter Karim Maghaaoui: "If you're a good driver, your insurance should be lower."
The average increase in 10 states surveyed showed renters were charged 7 percent more for their premiums, an average of $112 a year.
---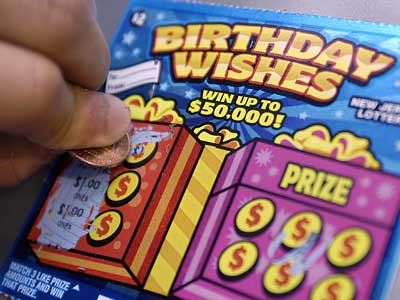 By Angie Moreschi
There's no doubt scratch off lottery games are big business. In 2013, the Florida Lottery sold more than $3 billion dollars in scratch off tickets.  The top prizes often range from $5000 to several million. The urge to win big is often irresistible for folks going to fill up their tank at the gas station or pick up a gallon of milk at the grocery.
"Winning money's always fun!" laughed Melissa Rager, who says she loves the instant thrill of getting a winner.
---
We all need to take precautions these days to protect ourselves against identity theft, especially when it comes to your credit card. You may have heard that writing "See ID" on the back of your card, instead of signing it, is a way to protect yourself, because it encourages a cashier to check another form of identification. Well, Asa Aarons, with CreditCards.com, says not so fast. Click here to see his report on why writing "See ID" is not such a good idea.
---
CWN Staff
Jill Estes was raised in Haddon Heights, New Jersey, and Palm Beach Gardens, Florida. As the middle daughter of small business owners, she learned early on about how important it is to be an advocate for the little guys. Read more »
---
Kim Fowlkes was born in Fort Oglethorpe, Georgia, and received a degree from Hillsborough Community College. She has extensive experience as a paralegal. Read more »
---
Chris Hoyer
Factory worker, Laborer, Fisherman, Career Federal and State Prosecutor, Campaign Manager, Systems Designer, and Artist.
---
Judy is a wife, a mother and a human being. She was a hippie in the late 60s and attended law school in the 70's. She prosecuted fraud on behalf of the State of Florida and the United States for 20 years and on behalf of private clients for about 10. Read more »
---
Angie has 20 years working as an investigative journalist at TV stations all over the country. She is a national award winning producer, reporter and anchor. Read more »
---
Being the son of parents that survived "The Great Depression" John was taught at an early age the value of family and hard work. His first job was at the age of 12 delivering the evening newspaper Read more »
---
Investigating consumer fraud, corruption and wrong-doing for the past 25 years, Jim Ross came to The Consumer Warning Network from the Economic Crimes Unit of Florida Attorney General Read more »
---
Al Scudieri is a native of New York City who graduated from the City University of NY. He joined the FBI in 1969 as a Special Agent and was assigned at New York, Alabama and Washington, D.C. Read more »
---
Terry is part of the original baby boomer generation, born at MacDill Airfield, Tampa, Florida, shortly after World War II, to a military family. His dad was part of the D-Day Read more »
---
Larry´s unique brand of television post production, shooting and editing has been broadcast all over the country in both national and local feature programming. Read more »
---
About Us
Who We Are
The Consumer Warning Network is devoted to exposing fraud and unfair practices against consumers. Our team includes former Federal Prosecutors, FBI agents and Investigative Journalists with decades of experience in uncovering wrongdoing. We give consumers the knowledge big companies don't want you to have, so you can fight back.
CWN was founded by Attorney and former prosecutor Chris Hoyer out of frustration over the lack of meaningful help for homeowners trapped in the mortgage meltdown. After investigating big mortgage companies who created the sub-prime mess for several years, it became clear homeowners would bear the brunt of the financial hardship, especially as many began losing their homes to foreclosure. That gave birth to CWN's first major grassroots campaign to help homeowners called "Produce the Note."
Click here to watch
Chris' original video urging homeowners to fight back.
From "Produce the Note" to drug company hypocrisy to finding out which airline is the safest, CWN is here to educate consumers in an age of overwhelming corporate greed. We hope you'll come back often and find useful information to help you in your everyday life.
The James Hoyer Law Firm provides resources to make the operation of CWN possible.
---
Top Stories
---
The best defense against scams is making consumers aware of them. That's exactly what the Better Business Bureau's Scam Tracker does. The Scam Tracker The... Read more »
When you buy pre-packaged lettuce at the grocery store, most of us just eat it right from the bag without a second thought, but should you be washing your "pre-washed"... Read more »
Consumer Alerts
---
Many of us love to travel to wonderful vacation spots, but hate the process of getting there.  Airlines often get the brunt of criticism for making the trek frustrating,... Read more »
For Nora and Bill Massaro, having a will gives them peace of mind. "To me, it was kind of a relief that I was taking care of my children," Nora Massaro said. If... Read more »
Where's the Outrage?
---
You won't find a Surgeon General's warning on your bag of sugar, nor is it regulated by the FDA. Yet sugar can be far more addictive than cocaine, and... Read more »
When it comes to flying, getting where you want to go on time always seems to be an issue. Flight delays and cancellations top the list of complaints. "You keep... Read more »
Voice of Democracy
---
Fight Foreclosure: Make 'Em Produce The Note! Using the "produce the note" strategy is something all homeowners facing foreclosure can do. If you believe... Read more »
By Angie Moreschi: Why is it that every time you turn around these days, you find a lawmaker up on Capitol Hill trying to stick it to the consumer?  Of course,... Read more »
Your Money
---
Forget the crowds and hassle of the airport. Hitting the road for spring break and summer travel is the way to go for many folks like Ken Martin who is headed to... Read more »
Retailers spend billions of dollars to understand what makes you buy something as a consumer.  Understanding the psychology behind our shopping behavior can help... Read more »